How To Clean Gold Jewellery the Best Way
Going out looking dirty is not the vibe. It seems obvious that you wouldn't repeatedly wear dirty clothes to make a good impression on others, but dealing with jewelry is trickier. 
Although your jewelry doesn't get quite as dirty as your underwear and gym socks, its appearance can look dull over time if you don't take care of it. But don't worry: Cleaning gold jewelry only takes a few minutes, and you'll have rings, bracelets, necklaces, and earrings that are good as new. 
Why Does Jewelry Tarnish or Rust?
When you think of objects that are likely to rust, old bicycles and hubcaps might come to mind. Jewelry is supposed to accent your appearance. So, why does it rust?
Ultimately, jewelry made of many metals can rust or tarnish over time. This process can occur for several reasons, including inferior-quality materials, poor storage, and natural chemical reactions. If your jewelry is only slightly tarnished or dirty, you can clean it. But if it's severely damaged, it might be time to replace certain pieces with new ones.
Cleaning Products for Jewelry
Here's the good news. When cleaning your jewelry, you can find almost everything you need without needing to buy a specialized jewelry cleaner.
Here are the household items you may need to clean your favorite gold jewelry:
Soft-bristled toothbrush
Soft-bristled brush
Baking soda
Dishwashing liquid
Soft cloth
Plain white toothpaste
In just a moment, we'll discuss the best methods for cleaning jewelry. First, let's review the different kinds of metals you may need to clean. 
Cleaning Different Types of Gold Jewelry
Different metals behave in different ways and can look distinct over time. For example, you may have two necklaces that seem similar in their design, but one begins to tarnish while the other keeps its quality for years. Why is this?
Here are the different types of gold metal and what you need to know about them.
Solid Gold: This metal is the most expensive jewelry metal. While 24-karat gold is the most valuable, it's also the most susceptible to wear, including scratches. (18-karat gold tends to be more durable.) Although it retains its worth relatively well, solid gold can tarnish over time.
Rose Gold: This kind of gold is solid gold combined with copper. In an 18k gold piece, the amount of pure gold is 75%, and the copper is 25%. If your jewelry has a lower karat amount, the percentage of copper will be higher. 
White Gold: White gold is a fantastic jewelry metal that looks similar to silver. In an 18k piece of jewelry, white gold contains 75% solid gold and 25% nickel and zinc. These alloy metals don't rust easily, but some skin types react to them. 
Yellow Gold: Yellow gold is a classic color for jewelry. In 18k jewelry, the composition consists of 75% solid gold with 25% copper, zinc, and other alloy metals.
How To Clean Gold Jewelry at Home
When it's time to clean your jewelry at home, you can follow a few simple steps. These steps will work for many kinds of jewelry, but you can also find specialized instructions for more sensitive materials.
Here are the straightforward steps you can follow:
Fill a bowl with dish soap and water, agitate the water so that suds form, and then let your jewelry soak in the soapy water for a few minutes.
Gently scrub your gold jewelry with a soft-bristle toothbrush to get the dirt out of crevices. 
Rinse your pieces with clean water.
Let your jewelry air dry, or dry it off with a soft cloth.
If you find that your jewelry is not responding well to just soap, you can follow this quick alternative method:
Make a paste out of baking soda and water. You can use two parts baking soda to one part water to create a paste consistency. If you don't have baking soda, use toothpaste. 
Apply the paste to your jewelry and gently scrub again with your soft toothbrush, making sure to reach any spots that might have accumulated dirt. 
Then, rinse your jewelry with running water and let it air dry or dry it with a soft cloth.
Tips for Cleaning Gemstones
Let's say you have a piece of jewelry that displays rubies, opals, emeralds, and other precious stones. If you want to clean jewelry with gemstones, you'll want to follow the same steps using dish soap and a soft-bristle toothbrush. Additionally, you may need to use a toothpick to clean any hard-to-reach areas where dirt has accumulated.
Keep in mind the Mohs Hardness scale: Some gemstones (like opals) are very soft while others are more durable (like cubic zirconia). 
Five Hacks To Keep Jewelry Clean
Your jewelry is supposed to make you look good. Whenever you've cleaned it, and it looks as good as new, there are several tips you can keep in mind to ensure your pieces always look their best.
Avoid Lotion
Staying moisturized is essential for preserving the health and appearance of your skin. However, if you wear jewelry, lotion can be a sneaky culprit leading to later build-up. 
If you wear lotion often, consider taking off rings, bracelets, and other jewelry that may accumulate leftover residue. Then, you can put your jewelry back on, ensuring it looks its best.
Careful When Showering
Not all jewelry is the same. For example, some jewelry materials can withstand prolonged water contact, while others develop rust or lose their color when coming in contact with water.
If you're unsure of your jewelry's quality, try taking your pieces off before you shower or swim. Doing this can allow you to keep your favorite accessories free from water damage and harsh shampoo chemicals.
Make Use of a Jewelry Box
Part of why jewelry can end up looking rough is improper storage. There's nothing wrong with living a carefree life. However, if you often misplace your jewelry, it may result in dirt and grime build-up from leaving your rings, necklaces, earrings, and bracelets lying around.
To keep your jewelry looking top tier, consider utilizing a jewelry box. Although you might not be used to it, it's a good practice to help you take care of the details that keep you looking sharp.
Stay Away From Bleach
Precious jewelry metals and stones can endure years of wear. But there are some substances you should avoid exposing your jewelry to. For example, bleach is one substance you should keep away from gold jewelry since it causes it to corrode over time.
If you must handle bleach, always wear protective gloves or remove the jewelry that may come into contact.
Steer Clear of Abrasives
Avoiding abrasive substances is best if you're wearing silver or pure gold. Lemon juice and chalky toothpaste are examples of substances to keep away from your jewelry during the cleaning process. Since these metals tend to be soft, they may become scratched after contact with these substances.
Pieces of Jewelry To Upgrade Your Vibe
After you've cleaned your jewelry, you might discover that some of the pieces you previously enjoyed wearing have a bit too much rust or visible tarnish to continue wearing. Rather than wearing dirty or tarnished jewelry, it's a good idea to upgrade your pieces to fit your style. 
When you upgrade, you don't want to choose inferior jewelry that will lose its value in a few wears. You deserve jewelry that's heatproof, waterproof, and sweatproof to withstand your daily activities.
Allow us to introduce a few of our essential jewelry pieces you can try on when you want to upgrade your gold jewelry:
CRAFTD Compass Pendant
Who knows your story better than you? Our Compass pendant is a reminder that your journey is unique to you, and no one knows the way there the way you do. Following your inner compass is the only option.
Wear this necklace in gold to accent your other jewelry, and remember to put your intuition first. 
CRAFTD Iced Cross
The Cross symbol is one of modern fashion's most iconic pieces of imagery. For decades, people have worn this emblem around their necks for religious and personal reasons. 
Our Iced Cross necklace features icy details accenting the cross shape. It's an excellent piece to wear when you want to represent your faith or pay homage to iconic hip-hop jewelry styles. 
You can pair it with a Crucifix earring for a fully coordinated ensemble that's ready in seconds.
CRAFTD Tennis Bracelet
What's more ice cold than a tennis bracelet? When you want to look iced out, adding this detail to your fit is the right choice. 
This piece of jewelry is already bold without any help. Still, you can pair this bracelet with statement rings to upgrade its appearance and make it even more eye-catching. Be prepared to turn heads. 
CRAFTD Rope Chain
Want to keep your style understated and sophisticated? You don't have to wear statement jewelry every day of the week to make your mark on the world.
Add a CRAFTD Rope chain to your collection to wear with tee shirts, suits, and hoodies alike. It's a classic element you can wear for decades without going out of style.
CRAFTD Rose Band Ring
Want to add more personality to your jewelry? Consider branching out with the rings you wear. 
Our CRAFTD Rose band ring is an eye-catching element that can help you express your style from the first handshake. 
CRAFTD Wheat Chain 
Here's another chain that's diverse enough to work for any event or activity you may have planned. Our CRAFTD Wheat chain is a nature-inspired chain that adds texture to your jewelry without causing a scene. It's perfect for everyday wear, or you can layer it with bolder pendants for a more coordinated jewelry ensemble.
Eye-Catching Jewelry Suits You
Ultimately, you want your jewelry to be eye-catching but in the best way possible. Cleaning your jewelry ensures that others won't do a double-take with your jewelry because of its filthy appearance. 
Washing your gold jewelry is simple and makes every bit of difference. You deserve jewelry that elevates you. 
Sources:
What Elements Are in Diamonds, Gold, and Rust? | Science Line
How to Clean Gold Jewelry the Right Way | The Spruce
First Impressions: The Science of Meeting People | News - Harvard Business School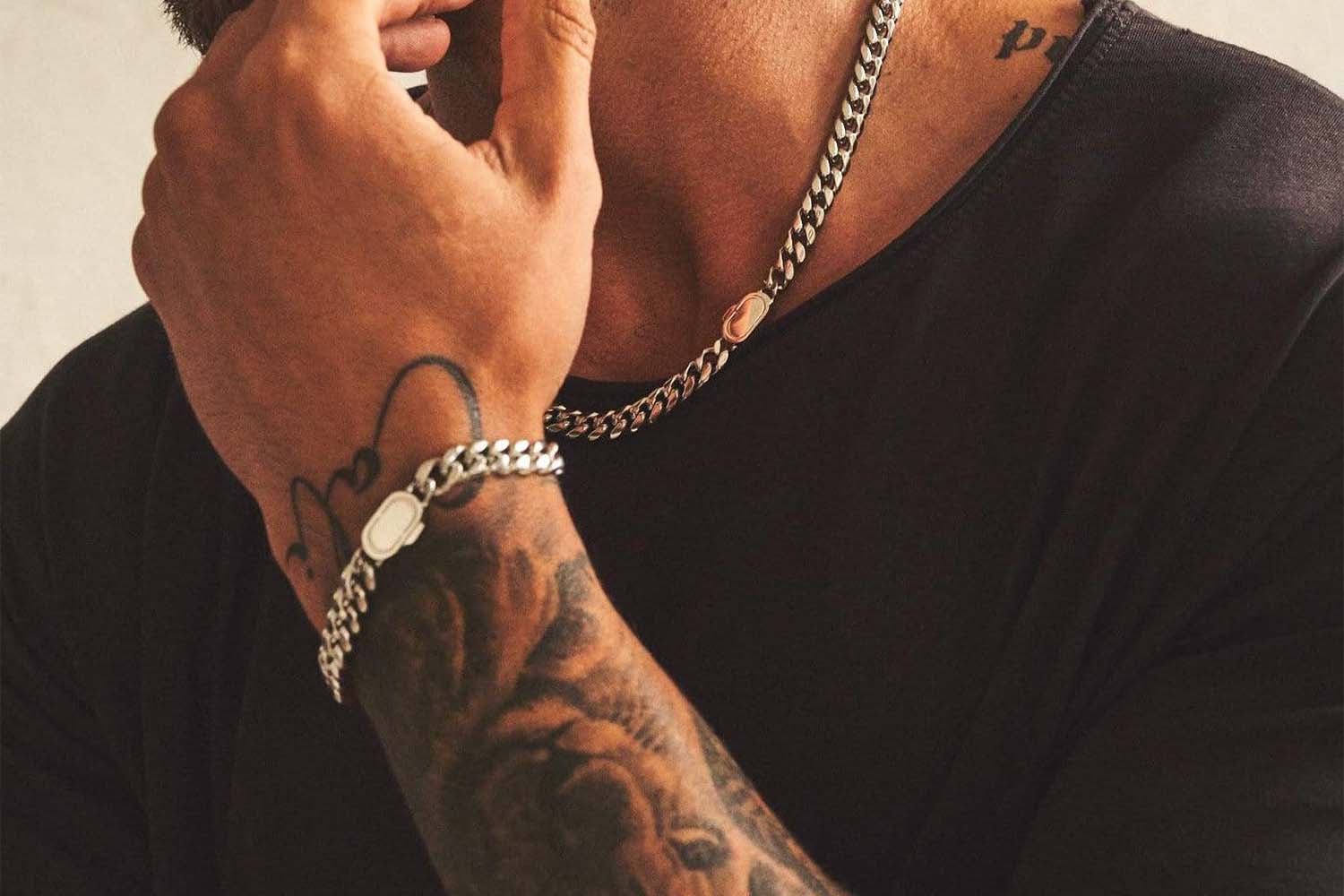 What Does 925 Mean on Jewelry?
Title: What Does 925 Mean on Jewelry? | Craftd UK URL: /what-does-925-mean-on-jewelry Meta-description: The numbers on jewelry tell you crucial information if you know how to interpret it. Read her...
Read more