Men's Rings and How To Wear Them: Six Ways
Think of someone whose style you admire. When it comes to men's jewelry, what elements do they incorporate, and how do they pull it off? 
We'll bet the person you're thinking of wears rings from time to time, and we're here to help you find ways to include this jewelry in your style. Today, let's talk about the many rings men wear. We'll go over the significance different types of rings can hold and show you several ways to wear this piece of jewelry confidently. 
Choosing Which Hand 
There's nothing wrong with purchasing new jewelry and finding your own way to wear it. You're 100% allowed to buy a ring and wear it on any finger that looks good to you. 
Still, understanding a bit more about the significance of wearing jewelry on each hand can allow you to excel in the small details. 
Right-Hand vs. Left Hand
As we mentioned, wearing a ring on one hand or the other is perfectly acceptable simply because it looks better to you. On the other hand, certain positions may conjure different meanings in the minds of others, and some ring positions have held different implications throughout history. 
For example, wearing a ring on your left-hand ring finger may imply that you are married or wearing an engagement ring in the United States and western countries. However, wearing the same ring on your right hand in other countries signifies romantic devotion. 
Another subtle difference between the right and left hand is the type of personality traits each denotes. When wearing jewelry on your right hand, others may perceive you as more outgoing and confident. Left-hand jewelry tends to signify a more reflective, personal characteristic. 
Choosing one hand or the other may not sway a person's beliefs about you. Still, these seemingly-small details can make for winning first impressions and add sophistication to your overall appearance.
Can You Wear a Ring on Any Finger?
You might wonder if there are rules to choosing the fingers you wear rings on. In the same way that your right and left hand can impact the meaning of your jewelry, wearing rings on different fingers can have a similar influence. 
Despite this, there are no set-in-stone rules surrounding which fingers you choose. There are only subliminal and historical meanings that can add value and purpose to your jewelry wearing.
Pointer Finger
The index finger is powerful. Wearing rings on this finger can communicate importance and ambition to those who see you. 
Historically, many people have worn rings on this finger that pay homage to their family of origin. They might have a family crest in some cultures. 
Today, signet rings and crests are still popular, and you can wear them on your pointer finger to communicate your confidence and honor your roots.
Middle Finger
The middle finger has an obvious connotation. Because of this, you might think it's somewhat scandalous to wear a ring on your middle finger, but that doesn't have to be the case. 
Recently, statement rings have become popular. Statement rings tend to be bold and large, and they're usually eye-catching. A statement ring might make a statement about your personal beliefs, or it might be a piece of jewelry that stands out more than the rest. 
If you're the type who likes to wear one bold piece of jewelry, consider going with the middle finger on either of your hands. Doing this can help balance your look visually and coordinate with the rest of your chains, necklaces, earrings, and bracelets. 
Ring Finger
We've already discussed how your ring finger can signify romantic devotion. When you wear a ring on the left hand, many people assume it's a wedding band or wedding ring. You could still wear any ring on this finger, but don't be surprised if you get questions about your marital status. 
Pinky Finger
We mentioned that wearing a statement ring on your middle finger can help you to balance your look visually. Another popular placement is your pinky finger if you want to wear a statement ring. Pinky rings can be eye-catching, making them an intriguing choice when coordinating your jewelry. 
Wearing a ring on this finger can also signify personal affiliation. If you want to display a ring that holds meaning and communicates personal value or history (such as a class ring), your little finger is a great location to wear it. 
Thumb
Wearing a thumb ring might not be as popular, but it's still a choice that can help you stand apart in your fashion game. Wearing a ring on your thumb is a unique placement, and it works well with more than one ring. 
Can You Wear Multiple Rings?
Speaking of wearing more than one ring, you might wonder if it's appropriate to wear multiple rings with your outfits. The answer is a resounding "yes." Celebrities like Zayn Malik, Harry Styles, and Lil Nas X have adopted the practice of wearing multiple rings in men's fashion, which we think looks killer. 
At the end of the day, coordinating rings is up to the wearer. Keep reading to see a few tips to keep in mind when you're considering wearing multiple rings. 
Opt for Variety
One way to level up your ring game is to incorporate a lot of variety. You might wear a band ring on your pinky finger while wearing a statement ring on another. You don't need matching metals either — you can even combine silver rings and white gold rings or go for rose gold.
Variety can also look like a mix of large rings and small ones. Mixing a variety of larger and smaller rings is a staple in men's jewelry, and it's an easy way to make a fashion statement.
Wearing two to three rings is a comfortable number if you're aiming for a unique everyday look. Still, if you want to wear more, it can be a way to show off your one-of-a-kind personal style.
Aim for Balance
When wearing multiple rings, you may want to prioritize an amount of balance in your appearance. This does not necessarily mean that you need to wear your rings symmetrically, but maintaining some balance across both hands can round out your look. 
How To Choose a Ring That Fits
Before you buy new rings to update your style, you'll want to know your ring sizes to take proper measurements. Keep reading to learn how to measure each finger so you can wear rings that fit you like a glove. 
Start with specifics: When purchasing a ring, decide which finger you'll wear it on ahead of time to ensure it fits well.
Take an accurate measurement: You can use a string and measuring tape to determine the ring size best for you. Wrap a piece of string around your finger, and mark where the ends meet.
Cut the string at the mark, and line it up with a ruler, noting its measurement in millimeters. Compare that circumference measurement to a jewelry retailer's ring size guide to find the best fit for you.
Six Ways To Wear Rings
Now that you know more of the details surrounding rings and how to wear them, let's talk about incorporating them into your style.
Here are six ways to wear CRAFTD rings to express yourself and add charm to your fits:
Wear an Everyday Ring for Casual Style
The first way you can wear rings is to accentuate your everyday clothing. Consider adding several go-to rings to your collection that can match your usual jeans, trousers, button-downs, sweats, and t-shirts alike. Adding versatile rings to your collection can allow you to elevate your appearance when you're lounging at home and socializing with potential prospects. 
Our go-to ring pick: The CRAFTD Signet Ring
Wear a Ring that Symbolizes Your Roots
The world's been waiting to get to know you, and you can share your roots through your jewelry. Whether you want to pay homage to your country of origin or represent a symbolic element that reminds you of your family, CRAFTD rings can allow you to do that. 
We recommend: The CRAFTD World Band Ring
Represent Your Faith With Your Ring Choice
Are you religious or spiritual? Perhaps you grew up in a faith tradition that shaped parts of you, or maybe you've recently adopted spiritual beliefs that guide your actions. 
You have every right to keep that part of your life sacred and personal. On the other hand, if you prefer to express it, your jewelry can help you communicate your beliefs and make for deep conversation starters.
We suggest: The CRAFTD Fate Signet Ring
Add Texture With Your Ring
You can also wear rings to add texture and visual variety to your jewelry. If the rest of your jewelry is understated, consider adding a more detailed ring to the mix. 
Our pick: The CRAFTD Cali Ring
Communicate Your Values With Your Ring
Are you driven? Sensitive? Adventurous? You can lean into these characteristics and communicate your essence and values to those around you. 
We'd recommend: The CRAFTD Rose Band
Wear Your Ring as a Personal Reminder
Your jewelry should look good for you and everyone around you to enjoy. But jewelry can also be deeply personal and help pump you up when you need it. Glancing at your ring throughout the day can allow you to connect to ideas that motivate you toward your highest self.
We suggest: The CRAFTD Crown Ring
Discover How CRAFTD Jewelry Excels
Once you start wearing CRAFTD jewelry, you'll be hooked. The truth is that most other jewelry brands don't make long-lasting pieces that can withstand the elements and keep up with you. When you want high-caliber, on-trend jewelry you don't have to worry about, we've got you covered at CRAFTD.
Sources:
Everything You Need to Know About Ring Fingers | Brides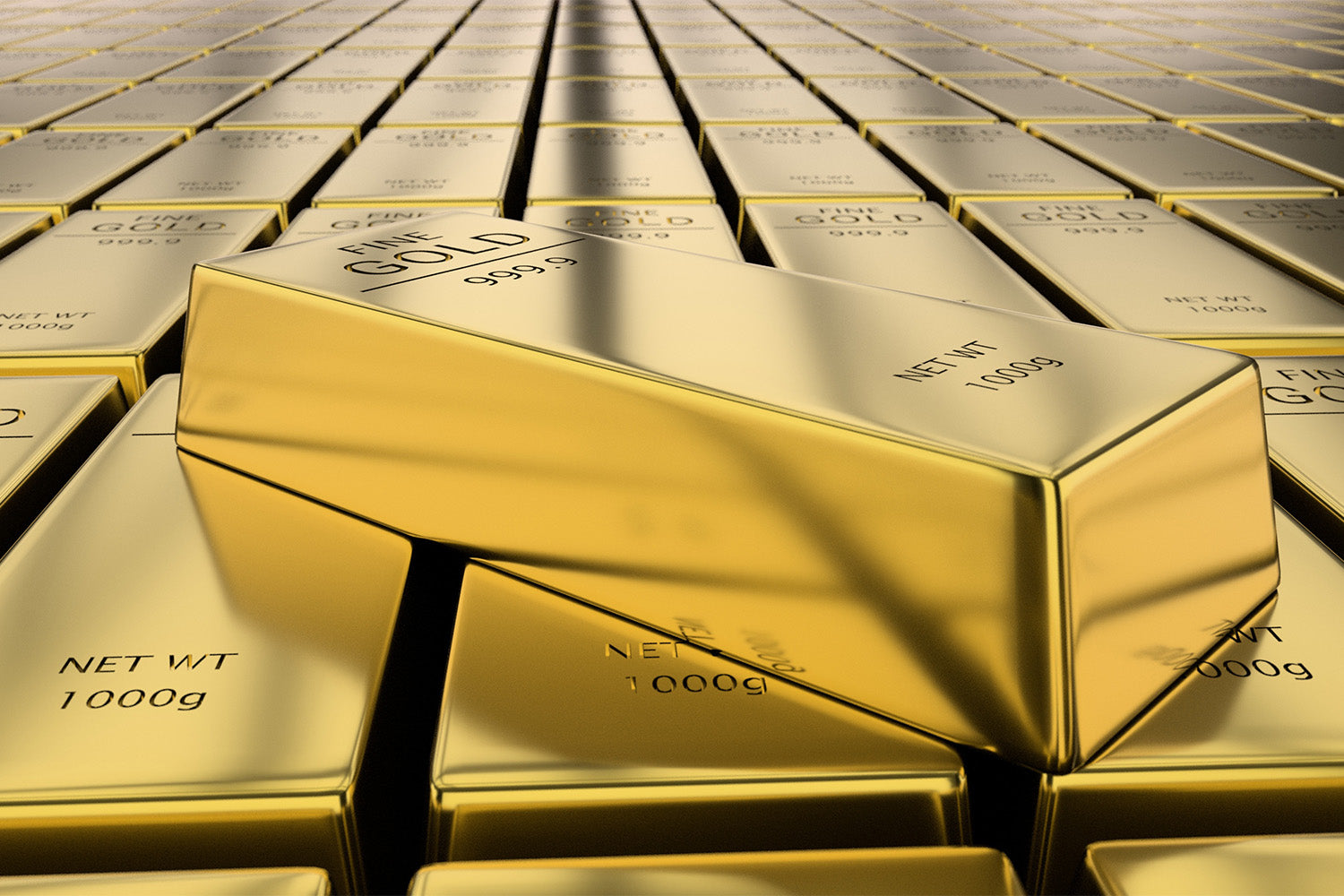 How Much Is a Gold (Ingot) Bar Worth?
If you've been around the sun a time or two, you've probably heard someone use the phrase "gold standard" when referencing how trustworthy or valuable something is. This phrase is popular because g...
Read more