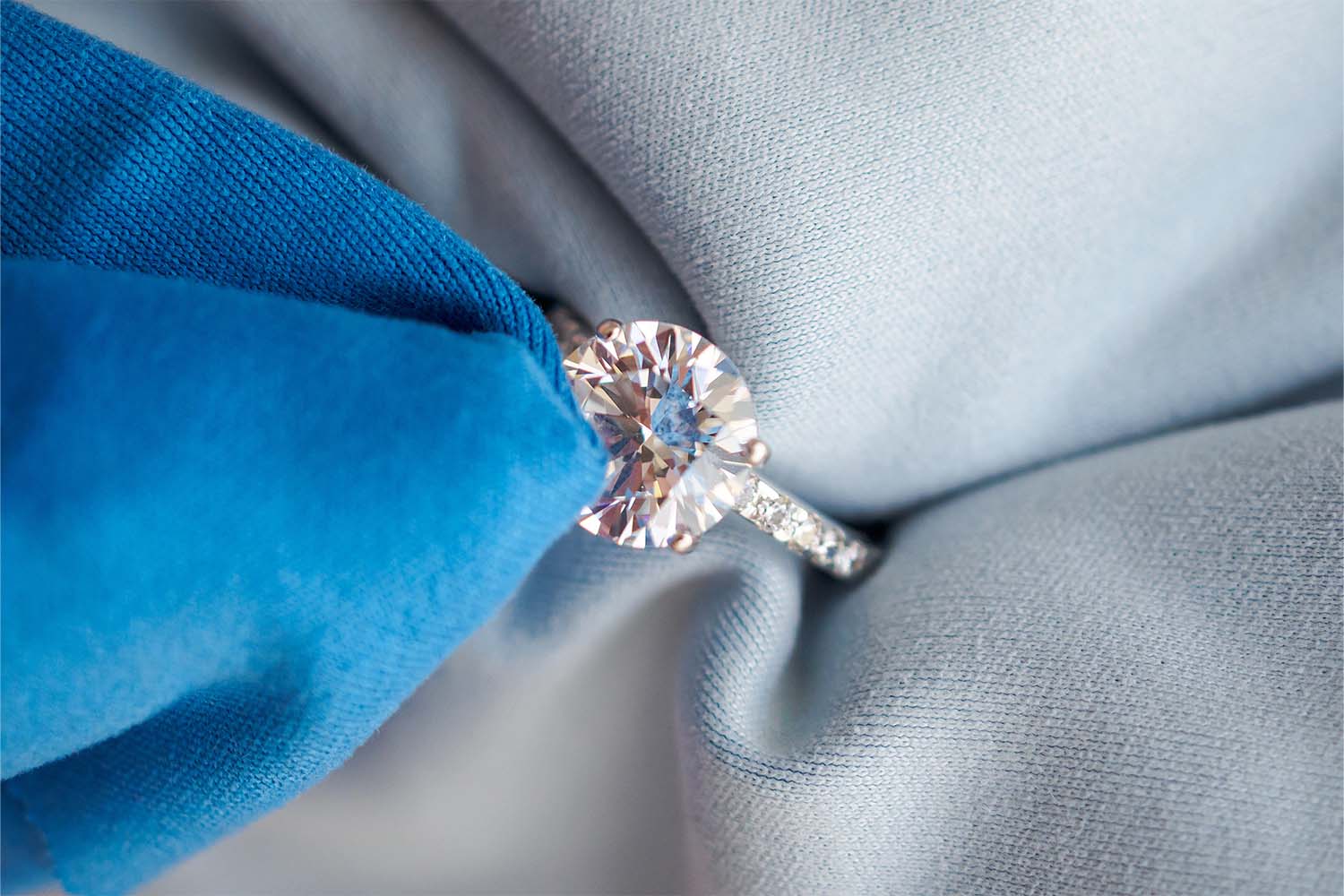 An Easy-To-Follow Method on How To Clean Rings
There are so many reasons to look your best. Whether you're going in for a job interview or meeting a romantic interest for drinks at the bar, you'll want to ensure you're putting your best self forward.
While getting ready for events like these, you might focus on getting your hair looking right or choosing the right shoes. But one detail you don't want to neglect is the state of your jewelry.
Today, we're going to focus on how to clean your rings so that they help you make the best impression. Then, we'll show you new rings you can browse when it's time to upgrade your collection and step out in high-quality jewelry.
Methods for Cleaning Rings
If you've noticed that the rings you wear every day aren't looking their best, there are ways you can refresh them to appear sleek and impressive again.
Here are the most straightforward cleaning methods you can try at home to renew your rings and care for your favorite jewelry:
How Do Clean Gold Rings?
Cleaning gold jewelry doesn't require fancy cleaning products or professional cleaning. Luckily, there are a few household items you can use to get your rings looking their best.
Dish soap: This jewelry cleaning method uses just a few drops of dish soap in a bowl. Try letting your gold rings soak, cleaning them with a soft brush, rinsing them, and letting them air dry.
Baking Soda: You can also use baking soda to make your rings look presentable. For this method, mix a teaspoon of baking soda into a cup of hot water. Stir the mixture so that it dissolves well.

Then, let your rings soak for a few minutes and rinse them in cool water. You'll want to use a clean cloth to dry them off at the end.
How Do You Clean Silver Rings?
Cleaning silver might require a few specific steps.
Here are a couple of the methods you can use to improve this precious metal's appearance:
Baking Soda Paste: To make a baking soda paste, mix three parts baking soda with one part water in a small bowl. Then, use a lint-free soft cloth to work the paste all over the rings. Finally, rinse your rings and dry them with a clean, lint-free cloth.
White Vinegar: If your silver rings are tarnished, letting them soak in white vinegar for a few hours may help. You can add baking soda for a more robust cleaning solution.
How Do You Clean Platinum Rings?
When a platinum ring gets dirty, the good news is that cleaning it can be simple. To renew a platinum ring to its former shine, all you need is soap and warm water. Any mild washing-up liquid is appropriate for this solution.
First, fill a bowl with soapy water and let your platinum ring soak in it for 30 minutes. Then, use a soft toothbrush to clean the dirt from the ring's surface and rinse it off in cold water.
How Do You Clean Rings with Gemstones?
Let's say you're working with a wedding ring that needs cleaning. You'll want to be gentle with the precious stones, so avoiding tough chemicals is a good call. One solution that works well for cleaning gemstones and diamond rings is Alka-Seltzer and water.
To use this method, soak your gemstone jewelry into the mixture until it stops fizzing. Then, you can remove the ring, rinse it in running water, and let it air dry.
Tips for Cleaning Rings
During the cleaning process, it's essential to keep a few tips in mind.
Here's a brief list to remember:
Use a soft-bristle toothbrush when cleaning
Get into the crevices
Use a clean, lint-free cloth for cleaning and drying
Avoid bleach, acetone, and harsh chemicals
Never use paper towels to scrub your pieces
Three Reasons To Clean Your Rings
Here is a brief look at a few reasons your rings may need attention:
They've accumulated build-up. Over time, grime and dirt can find their way into the crevasses of your rings and other jewelry. Even if you don't think you're a dirty person, using creams, lotions, and some soap can cause build-up on the surface of rings and their prongs.
They have lost their luster. Perhaps your jewelry isn't dirty, but you've noticed your favorite rings no longer shine the same way.
They're tarnished. Authentic silver jewelry tends to tarnish more than other materials. Cheap jewelry may also become discolored and lose its original appearance.
Guidelines for Buying New Rings
After you clean your rings, you'll either feel pleased with the outcome or realize your jewelry is too far gone. If you need to replace your rings with new ones, we suggest following a few simple guidelines for the best outcome.
Only Go for High-Quality Materials
You're probably familiar with the fact that some jewelers offer low-quality jewelry at low prices to entice you. It's imperative to look closely at the materials to determine if you're getting a good product. At CRAFTD, we only use high-quality 18-karat plated gold and premium 316L stainless steel.
Select Jewelry with Excellent Craftsmanship
Going for excellent materials and craftsmanship is essential when you want jewelry that lasts for years. At CRAFTD, we make all of our pieces waterproof, sweatproof, and heatproof to ensure you can wear your favorite jewelry wherever you go for as long as you'd like.
Stay Up to Date On Recent Trends
If you're buying new jewelry, you'll also want to look at trending styles to keep yourself looking fresh as hell. Keeping up with our CRAFTD trending page is a perfect way to stay in the know about new jewelry you'll love.
Seven CRAFTD Rings To Love
You don't have to wait for your rings to get dirty or tarnished to upgrade your pieces. You can check out a few of our favorite CRAFTD rings to add to your collection just to refresh your look.
Here are seven of our favorite CRAFTD styles to add to your jewelry rotation:
The CRAFTD Inception Ring
You don't need anyone's permission to take control of your life and your style. Our CRAFTD Inception Ring features the date CRAFTD was founded in Roman numerals, representing our commitment to our story. You can wear this ring as a reminder to craft a life that's true to your inner compass.
The CRAFTD Band 2.0 Ring
Adding minimalist jewelry elements to your collection can help you create variety in your jewelry and contrast in your overall appearance. When you're on the lookout for understated rings, the CRAFTD Band 2.0 should be at the top of your list.
This mid-weight band with grooved edges pairs perfectly with your other jewelry every time. It's a go-to ring if there ever was one.
The CRAFTD Vitruvian Ring
Do you get annoyed when people put you in a box? If so, you'll probably vibe with the idea DaVinci was getting at when he created the Vitruvian Man design. His thought was that every person reflects the universe in their potential.
Our CRAFTD Vitruvian Ring illustrates this iconic symbol, reminding you to lean into every expression of yourself.
The CRAFTD Rope Ring
Wearing multiple rings is one way to lean into more expressive styles with your jewelry. When you want to pair rings together, having our CRAFTD Rope Ring in your collection is a win. This band displays a twisting rope on the outside, making this ring a mid-weight band with a distinct texture.
The CRAFTD Cali Ring
There's something badass about a bold-face ring. Our CRAFTD Cali Ring is a statement band you can wear when you want to add more eye-catching elements to your fit. The bold square face on a heavy-weight band can kick your look up a notch.
The CRAFTD Fleurstone Ring
Here's another statement ring to help round out your ring collection. Our CRAFTD Fleurstone Ring draws on the recognizable French Fleur De Lis design. The round glass face can add a striking element to your jewelry with its black color. Wear this piece with other slim bands for a combination that completes your look.
The CRAFTD Signet Ring
What do you know about signet rings? You might be aware that they have some historical significance, but did you know that this kind of ring represented power and prestige?
When you wear our CRAFTD Signet ring, you can tap into that essence. It's a reminder to live your life on your terms.
How Do You Measure Ring Size?
When you're ready to pick out a few new rings for your jewelry rotation, you'll want to ensure you get the right size. The good news is that measuring your ring size can be easy.
Here's one method you can try:
Wrap a piece of string around your finger and mark it where it meets on the other side.
Measure the length of the string against a ruler, noting its measurement in millimeters.
Use that number to find your best fit on our size chart.
Professional Jeweler-Approved Pieces
Cleaning your rings can help you keep your jewelry looking excellent when it matters. When you want to devote attention to boosting your style and cleaning up your appearance, we've got the hookup at CRAFTD.
Sources:
How to Clean Silver and Save It from Tarnish Using Simple Pantry Ingredients | Better Homes & Gardens
Did Leonardo da Vinci Copy his Famous 'Vitruvian Man'? | Live Science
12 Best Minimalist Jewelry Pieces 2022
So many icons in pop culture history remind us that simplicity is badass. At award shows and red carpets, it's clear that bold self-expression turns heads. Still, you can't help but appreciate tho...
Read more